Golf shoes are an essential piece of equipment for any golfer, as they provide the necessary support and traction needed to play the game. In this article, we will delve into the history of golf shoes, the different types available, and the features to consider when purchasing a pair.
The history of golf shoes can be traced back to the early 1800s, when golfers wore sturdy boots with metal spikes to help them navigate the wet and muddy fairways. These early golf shoes were heavy and cumbersome, but they served their purpose of providing traction on the course.
As the game of golf evolved, so did the design of golf shoes. In the 1930s, the first leather golf shoes were introduced, which were lighter and more comfortable than their predecessors. In the 1950s, rubber spikes were introduced, which provided better traction and were easier on the greens.
Today, golf shoes come in a variety of styles and materials, including leather, synthetic, and waterproof options. The most popular type of golf shoe is the spiked shoe, which features spikes or cleats on the bottom to provide traction on the course. Spikes can be made of metal, plastic, or other materials, and the number and placement of the spikes can vary depending on the brand and model.
In addition to spiked shoes, there are also spikeless golf shoes, which feature a flat or slightly raised sole with small protrusions or nubs instead of spikes. Spikeless shoes are becoming increasingly popular due to their versatility and comfort, as they can be worn on and off the course and provide good traction without damaging the greens.
When shopping for golf shoes, there are several features to consider. First, think about the type of course you will be playing on and the conditions you will be playing in. If you play on a wet or muddy course, a waterproof shoe with metal spikes might be a good option. If you play on a dry, hard course, a spikeless shoe with a flat or slightly raised sole might be a better choice.
Next, consider the fit of the shoe. Golf shoes should fit snugly but comfortably, with enough room in the toe box to allow for natural foot movement. Look for shoes with padded collars and tongues, as well as removable insoles for added comfort.
Finally, consider the style and color of the shoe. Golf shoes come in a wide range of colors and designs, from traditional white leather to bold, modern colors and patterns. Choose a shoe that fits your personal style and matches your golf attire.
In conclusion, golf shoes are an important piece of equipment for any golfer. Whether you prefer spiked or spikeless shoes, it is important to consider the course conditions, fit, and style when selecting a pair. With the right golf shoes, you can enjoy improved traction, stability, and comfort on the course
What are the Best Golf Shoe Brands?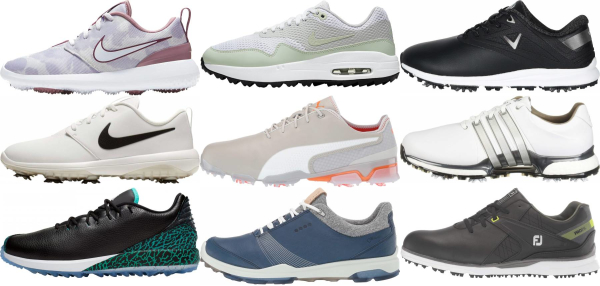 There are many reputable golf shoe brands on the market, each with their own unique features and benefits. Some of the top brands to consider include:
1. FootJoy: FootJoy is a trusted name in the world of golf, and their shoes are known for their high-quality construction and comfortable fit. They offer a wide range of styles, including spiked and spikeless options, as well as waterproof and breathable model
2. Nike: Nike is a popular choice for golf shoes, with a variety of stylish and performance-enhancing options. Their shoes feature advanced technologies like Flywire cables for a secure fit, Zoom Air units for cushioning, and waterproof materials for wet conditions.
3. adidas: adidas golf shoes are known for their sleek design and innovative technologies, such as their Boost cushioning system and climaproof waterproof protection. They offer a range of spiked and spikeless options, as well as traditional and modern styles.
4. Under Armour: Under Armour golf shoes are designed for maximum comfort and performance on the course. Their shoes feature technologies like Micro G cushioning, Waterproof Storm protection, and removable insoles for a customizable fit.
5. Puma: Puma golf shoes are known for their stylish designs and comfortable fit. They offer a range of spiked and spikeless options, as well as waterproof and breathable models.
Ultimately, the best golf shoe brand for you will depend on your personal preferences and needs. It is important to try on a few different brands and models to find the one that fits and performs the best for you.